I am so sad that this weekend is over, it was just too much fun! Friday I came home early from work because I was feeling under the weather but after a nice long nap I was able to rally and headed out for a relaxing dinner with one of my close friends that evening. Saturday we were up bright and early to pack the car and head to the Cape! My parents agreed to watch the dogs while we went to Dave Matthews that night, so that they could have a fun day out in the yard!
We got to the Cape and I immediately ran to the huge Kate Spade box waiting for me in the living room! I just bought this bag for a birthday present to myself and am so excited to use it for a fun summer bag!
Penny and Teddy were very happy to be reunited and had an absolute blast all weekend! We then got back into the car and headed to a friends about an hour away to BBQ before the concert. He lives right down the street from the venue and was a perfect spot for us to sit out in the gorgeous weather and relax before we headed to tailgate.
Tailgating was an absolute blast! We had amazing weather and a huge caravan of friends - seven cars and around 30 of us!
Sorry for the horrible quality of these pics - I stole them from my friend Jess on instagram!
I also have no idea what Ross is doing in the background of these past two pictures...
We had really decent seats and oddly enough had a group of girls from my high school sitting right behind us...small world! The show was fantastic and we danced like crazy people the entire time!
We are seeing them two more times next month in CT and I cannot wait!! I also finally have made the decision that it is the right time to get my Dave tattoo. I have been thinking about doing it since I was like 18, but haven't committed yet...but as I am approaching my 40th and 41st DMB concert next month I just am ready to do it.
Today I am working from home because I have to head to the post office to renew my passport for Mexico and take care of Seamus because he is feeling very under the weather! We have a very busy week ahead and then another race this upcoming Saturday!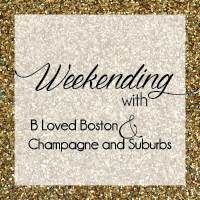 Linking up with
Biana
for Weekending!