That's right, you heard me. The FLU! Of course, my flu-like symptoms would show up the day before I leave for Chicago. Maybe heavy alcohol comsumption will flush the sickness out of me. That usually works.
Due to my head-in-a-daze morning, this is what I showed up for work in today. And Ross didn't even stop me. WHAT THE EFF. I have no idea why I put this shirt on with my leopard scarf. He is getting a punch tonight for letting me out in public this way. I have been wearing my coat since I got to work. And it isn't even that cold.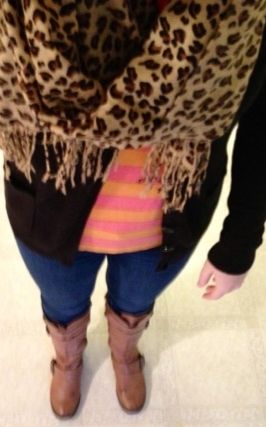 I also looked at the weather this morning...it is going to be surprisingly warm here this weekend! And chilly in Chicago! I guess I better stay in the stores.. :)
I decided to start a
facebook page
for City Sequins! I started working on it last night, but have discovered that I am really terrible at doing any sort of decent looking design stuff...so I am in the process of finding a blog designer to help me! Any recommendations would be greatly appreciated!
I hope everyone has a wonderful weekend. Next time you see me I'll be blogging from Chicago!